As shore and anchor lines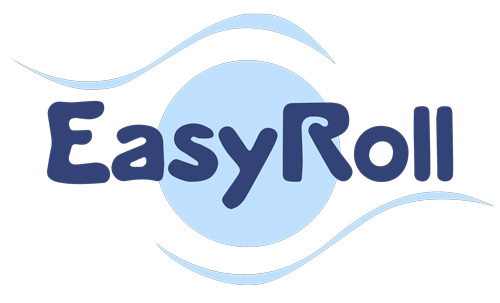 Dyneema-ropes on high-quality stainless steel spools
Decide for an 

EASYROLL safety package
•  V4A stainless steel Easyroll spools with Dyneema® ropes  permanently mounted on the railing for use as shore and anchor lines
• No longer stressful searching for lines in the back box!
• Used as a mooring line in the stern area of sail and motor boats from 5 to 100 tons
•  Allows immediate attachment of rescue tires and inflatable boats
• An anti-pull-out protection prevents the end of the rope from slipping out of the spool
• The spools can easily be moved (see short video clip) to the desired position before fixing them
• The stainless steel spools can be easily mounted with two screws (see photo)
• You will always have a tidy look (see photo) on your boat
•Dyneema ropes are much lighter than conventional ropes, take up very little water, are highly UV and abrasion resistant, have a maximum tearing strength and space-saving profiles
• They are high-tech HMPE (high-modulus polyethylene) ropes from the German market leader
• As an addition to our program, we supply all-weather protective covers and shock absorbers
THINGS WORTH KNOWING ABOUT EASYROLL
A company with tradition.
For more than 20 years we have been selling robust and high quality stainless steel spools in cooperation with a Scandinavian manufacturer.
Due to their low weight, the spools of different sizes can be attached directly to a railing with a diameter of 25 to 30 mm (22mm for the DRS and DRM spools). The ropes are already spooled on the spools. Yellow and silver-grey Dyneema® ropes are available in lengths from 55 to 120 meters. After fixing the rope to the cleat, you can feel safe and relaxed on the boat again. After 2 minutes of rolling up, the ropes are ready to be used again. The ropes can be used either as short mooring lines in the harbor or as long shore or anchor lines when anchoring in bays.
COMMENT FROM THE EASYROLL DISTRIBUTION
The modern material Dyneema® has entered all ships/boats years ago. High breaking load, at much thinner diameter, allows to use stainless steel spools with only 50 cm diameter. The relatively low elasticity of Dyneema® ropes can be conveniently compensated for by the patented "shock absorbers with shackle". Matching tailor-made all-weather protective covers are available for all spools. A combination wrench is included in the delivery for mounting the spool axle. It is an 8mm Allen wrench for fixing the axle and a 17mm open-end wrench for fixing the spool.
GOOD TO KNOW
Dyneema° HMPE synthetic ropes hardly allow any stretching. Splicing is known to reduce the breaking load.
The ropes are not a danger to ship propellers, because they float on the water surface. This is an advantage during all swimming actions from the ship.
We sell the stainless steel spools now for more than 20 years without complaint.
WHAT CUSTOMERS SAY ABOUT EASYROLL
References from all over the world
"We ran aground with the keel on a sandbank (Greece, channel of Levkas, Bavaria 42). The inboard motor alone failed to get the boat free. We took the end loop of the Easyroll rope and threw it to a passing motorboat driver for towing, attached the rope to the cleat – the motorboat started and our boat was free again."
"As the responsible skipper, I must not leave the boat when family and guests are already swimming around the boat. When the boat is not firmly anchored, I have made it a habit, for safety reasons, to unspool a few meters of rope from EasyRoll, attach it to the cleat, and with the rope beside me, enjoy the bathing pleasures as well."
"Here's a photo of the shock absorber installed on our mainsail boom hold down line. It is 6mm Dyneema line with a 12mm polyester tail that works in the winch self-tailer. Much gentler on all the components than without the shock absorber. Thanks very much!"
"Yes, the spools arrived yesterday! What can I say, the quality, packaging, your business ethics, everything summed up for one of best online experiences to date. Thank you so much!" (March 16th, 2023)

EasyRoll
Kai Hohenwarter
Aufkirchner Straße 20a
D-82069 Hohenschäftlarn
Germany
kai.hohenwarter@easyroll.de